Probably the most incredible story is that of Carlos, Bernardo's (founder and director of Kleiner Nazareno e.V.) adopted son. He found his family again after 27 years.
Fortunately, the families of all the children and young people who have been taken in by the "kleiner Nazareno" so far have been located. So far, every child has found his way back home, either through the parents' efforts or through contacts with reporters from newspapers, television and radio.
Only for Carlos it was different.

Due to domestic violence, Carlos runs away from home at the age of seven
At the age of seven, Carlos ran away during a violent confrontation between his mother and stepfather. Out of desperation, he got on the first bus he could find and immediately fell asleep from sheer tiredness. What he could not have known was that his bus would not take him to another part of town, but would take him further and further away, hour by hour, from all the people with whom he had been familiar and whom he loved. His unwanted journey took him all the way to Fortaleza and hundreds of kilometres away from his home. When he got off the bus, his life was over. His life was completely turned upside down and all because he could not protect his mother from the violent attacks of his stepfather. From one day to the next he was a street child, sleeping on park benches, and at the age of seven he was completely on his own.
From then on, he lived alone on the street. He did not know the name of his home village or could not remember it. This made it almost impossible to find his family.

Carlos finds a new family with the "little Nazareno"
From there, he was taken in by the "kleiner Nazareno" and the search for his family began.
His travels with an educator from the Nazareno village were unsuccessful, and even a lengthy report on television about his life story and the search for his family did not lead to any concrete clues. This did not change after he was adopted by Bernardo. The years passed. Maria, his daughter was born and the search for his family seemed like a closed chapter in his life.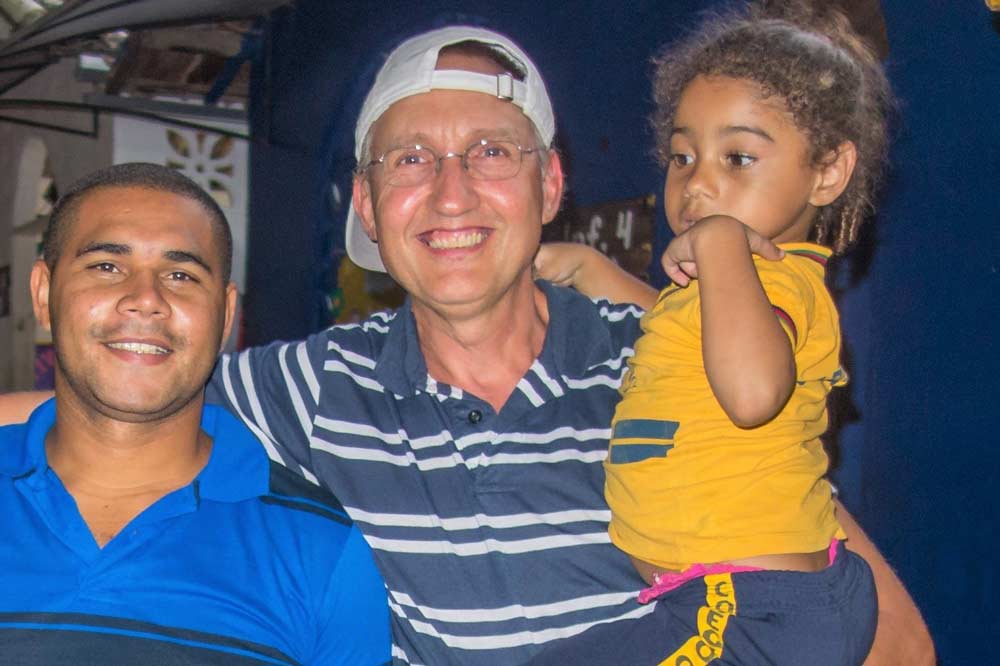 Bernardo has not yet given up hope of finding his son's family
However, after talking to his son, Bernardo realised that the fact that Carlos never found his family would always be a hole in his heart. With that, he had a new mission. He resolved to dedicate the next 10 years of his life to the search for his son's family, in addition to his many activities around little Nazareno, and he used all the means at his disposal.
The decisive factor was a reporter who had read the appeal Bernardo had written after the conversation with his son and Antonio Carlos, a co-worker of the "kleiner Nazareno". He set out with 2,000 flyers showing a photo of Carlos 27 years ago and one from today, as well as the dates that were known: Mother's first name (Geane) and brother's first name (Diego).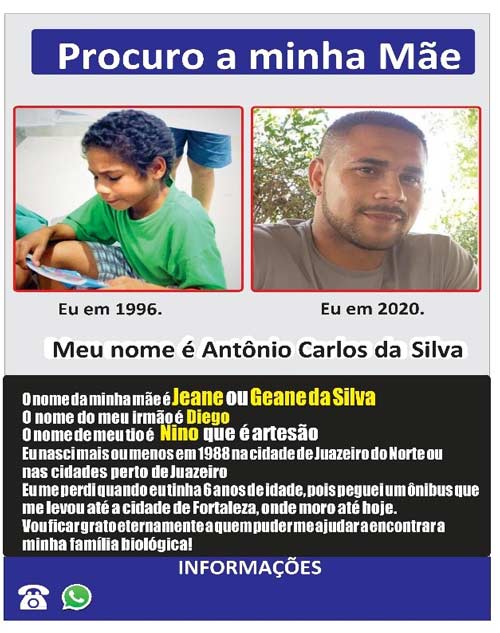 Will years of searching finally lead to success?
After years of unsuccessful searching, everything suddenly happened very quickly. Antonio had not even been in Juazeiro do Norte for a day when the decisive call came: "I'm Clécio and I've seen the poster," he heard a voice on the other side of the line. "My mother's name is Geane and my brother's name is Diego."
Antônio Carlos first insisted on photos, which Clécio promptly sent him, before talking to Clécio at length on the phone. And he told a heartbreaking story: Carlos' mother had died of cancer two years ago. Still on her deathbed, she spoke about Carlos and regretted not having set in motion more efforts to find her son. He would have already notified the whole family and everyone would be looking forward to seeing them again!
The excitement of finding the family again was great but clouded by the sadness of the mother's death.
And now the reporter comes into play, because without him the family could never have been located. He worked through the night and published an article that had it all. In the pandemic, news that spreads hope and joy. The article received 70,000 likes and 1,350 comments after a few hours.


No happy ending after all? - Carlos was the victim of a huge lie
Everything seemed fine until the shocking news arrived: it's all a lie! The motives of the alleged brother are unclear. The shock and grief were naturally great.
Now the reporter comes into play for the second time, because he was naturally angry and did not know how to deal with the situation at first. There was a crisis meeting with the entire editorial staff of the newspaper.
Carlos and Bernardo had to send all Clécio's messages to the newspaper, with the result that everyone realised how they had been taken in by Clécio. Another long article about this appeared in the newspaper.


All's well that ends well - a family reunites after 27 years
It was this second article that by chance fell into the hands of Patricía from Santarèm, a few thousand kilometres away from the Nazareno village. She read the article to her husband Josinaldo. He turned out to be Carlos' uncle and immediately called his sister: "We found your son! We found your son!"
It took some time for Bernardo and Carlos to hear some of this news too, and then they were naturally more suspicious than the first time. But when the family sent a photo of Carlos it was clear: they had found his family!
Since then the phone has not stopped ringing, he is not only the prodigal son coming home again, but also the grandchild, the uncle, ...
On Sunday 6 December 2020, mother and son are finally in each other's arms for the first time in 27 years.
And to answer Carlo's question:
No, his mother never stopped looking for him. She desperately visited all the homes, went to all the police stations, spoke to all kinds of people on the street, was depressed and her face is also marked by life. Thousands and thousands of people have contributed, through a simple click, to a mother being able to say quite honestly: "I am the happiest mother in the whole world! My love for my son has won!"