Our partner Krzysztof in Poland is producer for the AMAZONAS garden furniture and the cushions and Fat Hammock designed for it. Sustainability and environmental friendliness plays a major role in the ecological production.
Sustainable energy cycle ensures good working conditions and conservation of resources
Each production machine is exhausted by a central exhaust system. Chips are sucked in and pneumatically transported to a large storage tank. Large air filters absorb wood particles from the air. This ensures healthy and dust-free air for the employees. The chips are automatically processed into briquettes. These are burned in a computer-controlled kiln and the energy generated in the process is used to heat the drying plant. A sustainable energy cycle is created.

FSCTM-certified wood from sustainable European forest management
Krzysztof uses only FSCTM-certified wood from sustainable forestry for the production of AMAZONAS wooden furniture and thus contributes an important part to a sustainable environment. Among other things, no chemical fertilizers and biocides are used, clear cutting is avoided and large parts of the biotope wood are preserved to maintain habitat for (rare) plants, animals and fungi.
More sustainability with durable agora fabric for indoor and outdoor furniture
The covers of AMAZONAS outdoor furniture are made of agora fabric - one of the highest quality fabrics for indoor and outdoor furniture. These fabrics are extremely resistant and insensitive to dirt. They allow water to simply roll off, similar to the lotus effect. The through-dyed fibers of the agora acrylic fabric achieve a particularly high light and weather resistance with the help of the innovative color fixation, whereby the fabric retains its shape and color for a long time.
In general, great care is taken during production to produce efficiently and conserve raw materials so that as little waste as possible is produced and resources are conserved. Recycled materials, such as recycled PET bottles, are used as filling material for the upholstery of AMAZONAS garden furniture.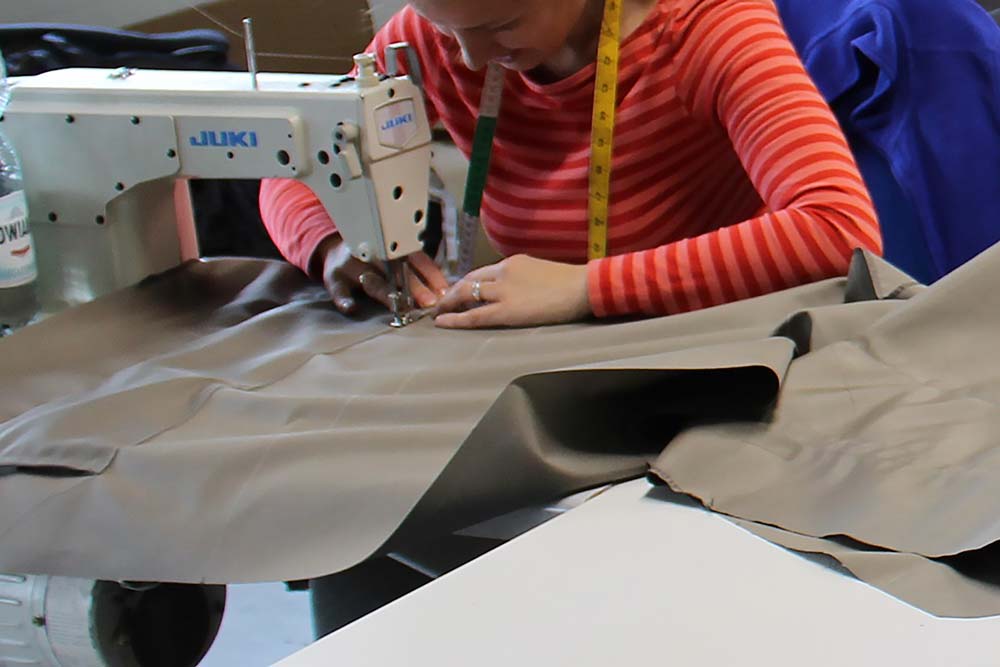 Power generation through solar energy
Since 2019, Krzysztof has also been focusing on sustainability when it comes to electricity. The solar panels for generating electricity are located on the roof of the production hall. This allows the full potential to be exploited.
Short delivery routes and very low returns keep co2 emissions at a low level
We have deliberately chosen the proximity to Poland in order to keep the transport routes to Germany as short as possible. This way we keep the co2 emissions low. The high product quality also means that there are hardly any returns, and thus less environmental impact.
Natural resource rainwater instead of water from the tap
To conserve the precious resource of water, the rainwater from the roof is collected in a 10,000-liter tank and used for dip impregnation in the production process, as it is softer than the water from the municipal waterworks. Before this, it is filtered to ensure that it is free of any impurities. Filtered rainwater is also used in the drying process for alternately wetting and drying the wood. In addition, a specially constructed pipe carries the rainwater to the flushing cisterns of the toilets. So here you can even go to the toilet sustainably :)
More about the sustainability history of AMAZONAS